Head Studies
Portrait Sketches by Adam Clague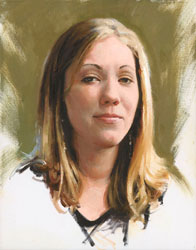 Beautifully crafted yet modestly priced, head studies provide excellent portrait opportunities.
These 11''x14'' original oil sketches are infused with artistic flair and capture the subject's likeness with the same integrity as a finished portrait.
Adam's head studies are painted from life in the

alla prima

manner, which captures the subject on canvas with accuracy, speed and artistry.
To learn about Adam Clague's head study commission process, please close this window and go to the "Information" section of this website.